Light bulbs – Lighting
ENERGY-EFFICIENT LIGHT BULBS
Many countries today no longer produce or import incandescent light bulbs (traditional light bulb). These light bulbs are no longer available on the European market and should disappear completely.
Energy-efficient light bulbs (light emitting diodes (LED), compact fluorescent lights (CFL), …) have replaced the traditional bulbs because these light bulbs use less energy and release very little heat or no heat build-up (LED) therefore protecting your lampshade and reducing the risk of burns and fire.
In the near future, LED light bulbs should also replace compact fluorescent light bulbs.
LUMENS
In choosing a light bulb, you must know the needs in LUMENS (unit of measure of the total quantity of visible light emitted by a source) and not the Watt's (unit of measure of electrical power consumption). Lumens indicate the lighting produced by a light bulb.
Light bulb packaging today helps us by giving the equivalent power of incandescent light bulbs, but we should take the habit of looking only for lumens (lm) and not watts (w).
Lumens
Incandescent
Compact-fluo
LED
806 lm
60 w
12-18 w
6-9 w
1055 lm
75 w
18-22 w
9-13 w
1521 lm
100 w
23-30 w
15-20 w
INCANDESCENT LIGHT BULBS
If you still have incandescent light bulbs in your home and in your country, here are a few rules to respect :
A minimum distance is required between the bulb and the lampshade :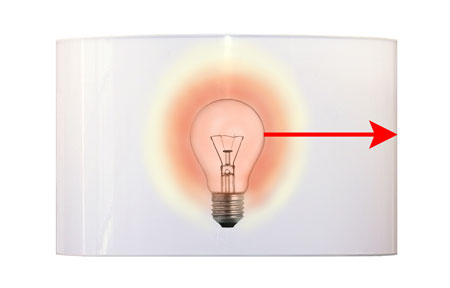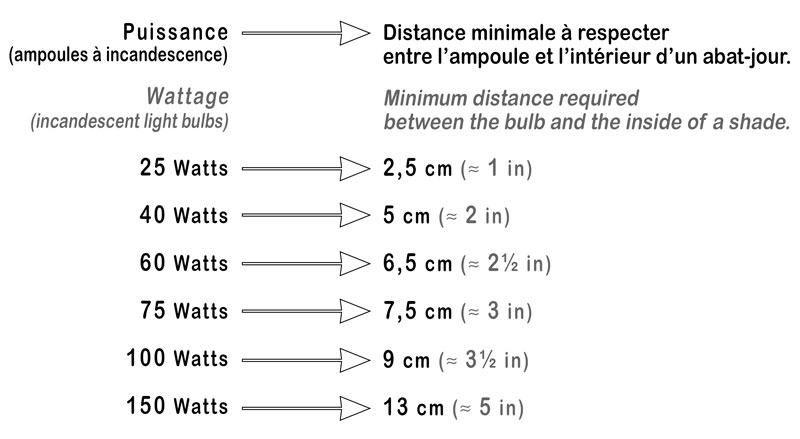 Verify that the wattage of your light bulb is adapted to the width size of your lampshade. A light bulb too strong (too hot) could alter, even burn, your lampshade if the lampshade size is insufficient.
You can also verify the lamp base recommendations for wattage, but it is especially the lampshade that determines the maximum wattage allowed.
Again, think of using low energy-efficient light bulbs to protect your lampshade, reduce energy consumption and heat production.
NATHALIE HANNON'S LAMPSHADES
For Nathalie Hannon's lampshades, the maximum wattage recommended only concerns incandescent light bulbs, because these bulbs heat up. We strongly discourage the use of halogen light bulbs.
France – European Ref. (E27)
Lampshade
Size and Shape
Maximum Wattage Recommended
For Incandescent Light bulbs
S Cylinder
M Coolie
M Drum
75 Watt
M Cylinder
L Coolie
L Drum
L Cylinder
100 Watt
USA – American Ref. (Spider)
Lampshade
Size and Shape
Maximum Wattage Recommended
For Incandescent Light bulbs
S Cylinder
M Coolie
60 Watt
M Empire
M Drum
L Coolie
75 Watt
M Cylinder
L Empire
L Drum
L Cylinder
100 Watt