European Fitters – E27
S – SM – M – ML – L LAMPSHADES
Small, medium and large lampshades S – SM – M – ML – L (réf. fr_) have an E27 fitter ring for standard european sockets and are sold by 1 to 2 lampshades in the same fabric.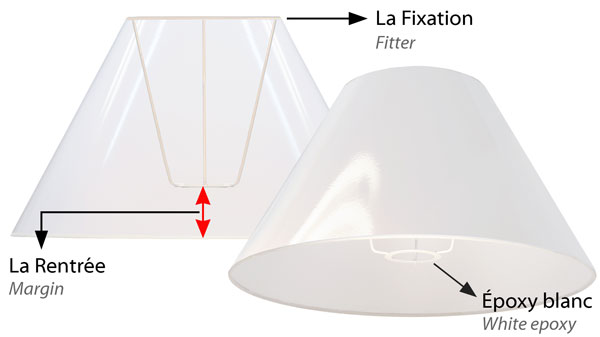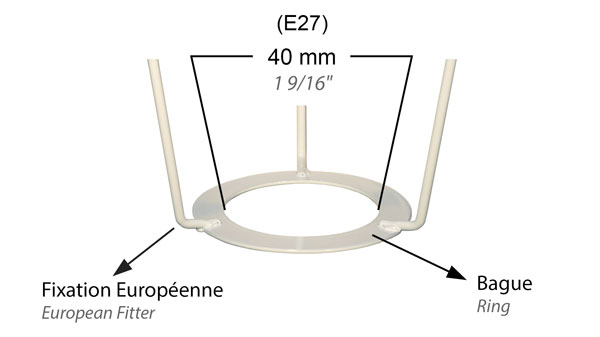 Fitter Details
European : Standard ring for E27 caps (inner diameter 40 mm = 1 9/16")


An adaptor-reducer ring (inner diameter 27 mm = 1 1/16") can be added for lamps with E14 sockets.

White epoxy wire frame
Margin : standard height
Lampshade to rest on a lamp base


Possibility of having your lampshade as a pendant shade for ceilings (only for the cylinder shape).
MARGIN
S – SM – M – ML – L lampshades have a standard height margin (between the fitter and the bottom of the shade) which allows the lamp socket to be hidden.
The margin height is 2,5 to 3 cm for small shades, 3 to 3,5 cm for medium size shades and 3,5 to 4 cm for larger shades.
Custom-made lampshades (to your measurements) makes it possible having a margin with more or less height.
EUROPEAN FITTING FOR LAMP : ASSEMBLING
A lampshade with a european fitting is similar to a slip UNO fitter, except for having a large flat disc ring. The ring slips on to the lamp socket (E27) and is secured by a plastic or metal cap which is screwed on to hold it in place.