American Fitters – Spiders
S – M – L Lampshades
Small, medium and large lampshades S – M – L (réf. us_) have a spider / washer fitter (american standard) for harps and are sold by 1 to 2 lampshades in the same fabric.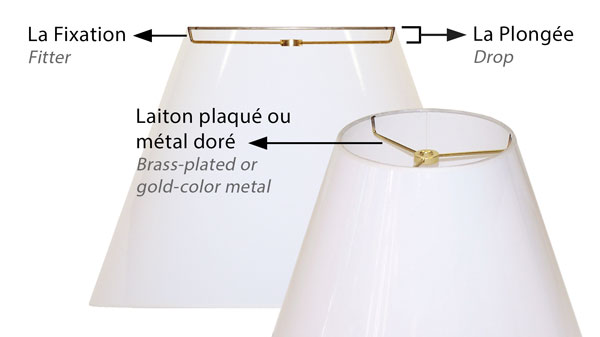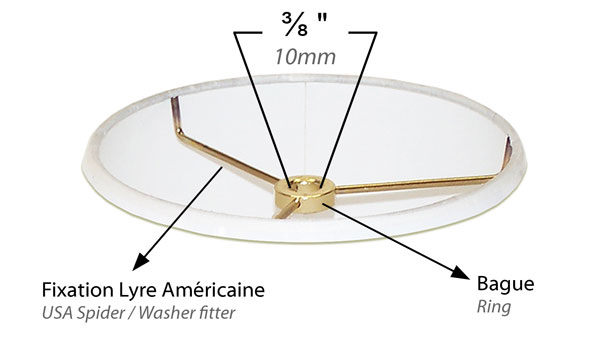 Fitter Details
American – Spider / Washer (origin USA)
Inner diameter of the ring : 3/8" (≈ 10 mm)
Thickness of the ring : ≈ 1/4" (6 mm)
Wire frame : brass-plated or gold-color metal
Approx. drop/recess : 3/4 to 1.2 inches (2 to 3 cm)
Lampshade placed on a threaded rod
A lampshade with a spider fitter, or sometimes called a washer fitter, fits on a threaded rod.
A finial, generally ornamented, is screwed on top to hold the fitting in place.
Lampshades with spider fitters are mainly used in the United States.
These fittings are available in several diameters.
Please notice the images, because these fitters have a ring with an inner diameter of 3/8" (10 mm) and a thickness of about 1/4" (6 mm) :
You must be able to enter the threaded rod easily in the inner diameter of 3/8" (10 mm).

That the threaded rod goes beyond the thickness of the ring (1/4" ≈ 6 mm) in order to be able to screw the finial on to maintain the lampshade in place.
AMERICAN HARPS FOR LAMPSHADES
A lamp harp is an accessory fixed under the socket of the lamp and is used as a support for a spider/washer fitting lampshade.
Harps come in different sizes from 4" to 15" and every 1/2 inch (≈ 10 to 38 cm). Choose a harp compatible to the height of your lampshade. The harp size is obtained by measuring from the top of the finial seat where the lampshade is placed to the bottom of the harp saddle.
Once the lampshade is in place, the bottom edge of the lampshade must hide entirely the harp and part of the neck of the lamp.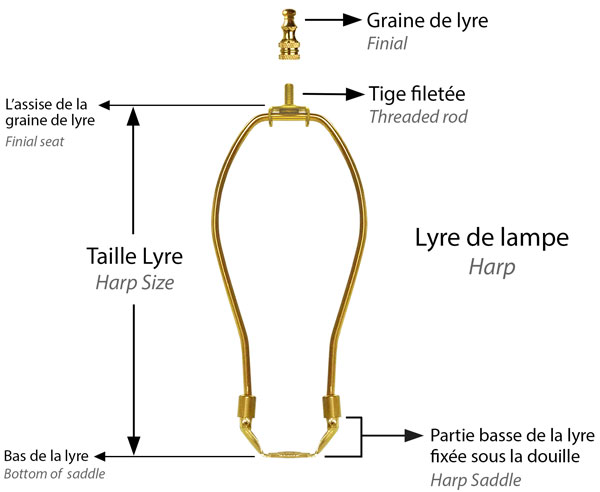 Harp Size Needed for a Lampshade (Calculation)
Overall (vertical) Height of lampshade minus Fitter Drop/Recess (about 1" = 2,54 cm) minus Bottom Margin (about 1/2" ≈ 1,3 cm) = Harp Size
Example :
If you have a lampshade with an overall (vertical) height of 9 inches (≈ 23 cm)
minus 1" (= 2,54 cm / approximate fitter drop/recess)
minus 1/2" (≈ 1,3 cm / approximate bottom margin)
= 7 to 7.5" (≈ 18 to 19 cm) = Harp Size