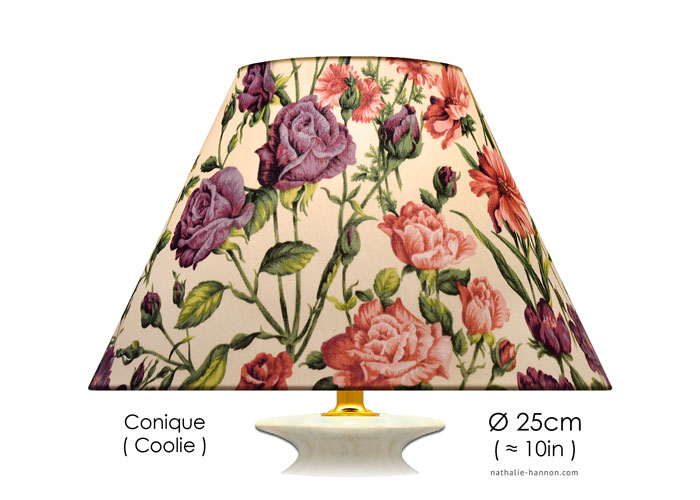 Small shade lighted
128

- Lampshade "Floral Stems"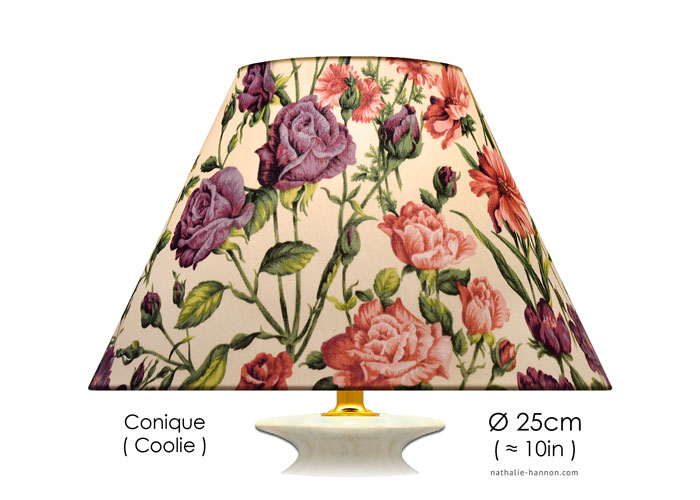 The sizes and shapes of the lampshades photographed give a "general view" of the fabric's design print (size and colors). The positioning of the fabric's print varies from one lampshade to another.
The different color tones of a lighted shade depends on the light bulb : lumens / wattage, warm white / cool daylight, …
POSITIONING OF FABRIC PRINTS THAT HAVE A DIRECTION
Cylinder Shape Recommended
The cylinder shape may be recommended (more suitable) even if the fabric is photographed on a coolie shape, because the fabric print has a direction. However, coolie shapes remain feasible.
For more detailed information on fabric placement for prints that have a direction : FABRICS
Fabric
theme
Florals
Ref. N° - Name
128 - Floral Stems
Colors
eggshell / violet red / purple / grass green / forest green
Details
Cylinder Shape recommended / Fabric : Out of Stock Soon
Lampshade sizes available
France (E27)
XS - S - SM - M - ML - L
USA (Spider)
XS - S - M - L